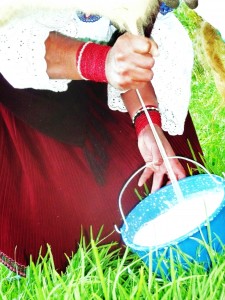 Cheese Consulting
Whether you're in foodservice or the beverage industry, educating your staff gives you the tools to increase sales and present cheeses at peak condition. Bonus: it helps to support small cheesemakers and provides additional safeguards to protect public health.
My services include staff training on proper storage and service and pairings, which can be personalized to help develop or further your cheese program. I'm also available for classes, cheese and spirit pairings, public speaking, social media, copywriting and content creation. I also do Brand Ambassador work for the cheese and craft distilling industries.
I've taught recreational cooking classes since 1996, and I'm available for speaking engagements, farm tours and other culinary/craft spirit education opportunities.
Brand Ambassador: Cypress Grove Cheese, Desert Door Distillery

Clients: Pure Luck Farm & Dairy
"Laurel has a great knack for capturing the vibe of her clients and tailoring social media posts to fit the different companies she works with.  Her extensive knowledge of all things cheese, and her connections in the industry were a huge plus for us." Wendy Mitchell, Avalanche Cheese Company
---
 "A proponent of sustainable foodstuffs, Laurel has written about farm-to-table issues long before they became popular. Her extensive international network of farmers and artisanal producers ensures her story ideas are fresh and timely." Kate Leahy, award-winning cookbook author (A16 Food + Wine; SPQR: Modern Italian Food and Wine; The Preservation Kitchen, with Paul Virant).